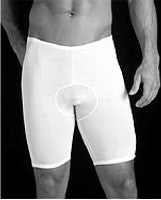 ANDIAMO! Basic Skins (No padding - Unisex)
ANDIAMO!'s popular padded skins add extra wicking and comfort not found in most wicking underwear. But a few guys and gals don't care for the padding, so we've brought in the Basic Skins. Featuring flat-stitched seams, the Basic Skins are ultra lightweight, maintain great wicking properties, and are made with Hydratech fabric that cleans up easily and dries quickly. On warm evenings on the road, simply hand-wash the skins and they'll air-dry overnight. Available in four sizes, small-XL. Your choice of black or white.
Sound RIDER! Cleaning Tips:  When cleaning synthetics use a minimum of laundry products.  Thier additives can clog fabric, inhibiting the wicking power of the fiber.  Never use scented detergents or bleach and never-never use dryer sheets or fabric softeners.  For the best results use a product designed specifically for cleaning synthetic base layers like Nikwax' BaseWash. Always wash your synthetics seperate from cotton garments.  This will keep cotton fibers out of the fabric and drastically reduce drying time by 50% or more.
---
We Also Recommend