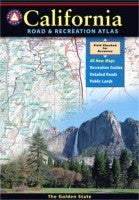 California Road & Recreation Atlas
The Golden State is a long one, and it takes a good atlas to cover it. Whether you're looking to twist across a mile of elevation change in the Sierra Nevadas or get dirty on your way to Laguna Seca, this is the right map for the job.
Has an online map sent your sportbike down a muddy trail? Does your GPS ask you to turn left into cliff faces? If you want more details in your directions, look no further. Benchmark Maps' Road and Recreation Atlases are as good as maps get, with scales that folding maps can't touch. Information is only as useful as it is accurate, and these field-checked maps are updated regularly – every 3-5 years. Whether you're looking to avoid gravel or go play in the dirt, you'll appreciate clear delineations between paved, gravel and the more challenging 4WD roads, as well as GPS grids for when you're well and truly lost… err, "exploring". In addition to climate information and recreation guides, each atlas features extensive listings of attractions, camping areas and even hunting regions. These atlases don't just tell you where you are, they help you decide where you want to be. Compared to Delorme, Rand McNally and others… there's simply no comparison.
---
We Also Recommend