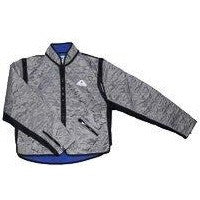 TechNiche Deluxe Evaporative Cooling Vest with Detachable Sleeves - FREE U.S. SHIPPING!
When riding in warm weather, heat stroke and dehydration are a real concern. They could not only end your ride, they could possibly end your life. Why not stay cool with a TechNiche Deluxe Evaporative Cooling Vest with Sleeves. The Deluxe ECV comes with a high collar featuring a hook and loop neck closure for added cooling and sun protection, and when temps near 100 degrees you can add more cooling and by ziping on the handy optional sleeve attachments. These vests feature zippered pockets and are lightweight, durable, and washable. Best of all they provide up to 10 hours of cooling relief per soaking when used with mesh riding gear or with all vents open on leather or textile jackets (results will vary based on outside temperature and humidity levels). With TechNiche's specially designed quilted nylon outer shell, polymer embedded fabric inner liner, water repellant nylon liner, and black cotton-poly elastic trim, the Deluxe Evaporative Cooling Vest with Sleeves is comfortable on even the longest summer day. Ride even cooler with the TechNiche Deluxe Evaporative Cooling Vest.
Each vest ships with exclusive care instructions created just for motorcyclists by the motorcyclists at Sound RIDER!  We've used these vests since 2002.  We know how to store them best, how to clean them and make them last a long time.  To that end we've compiled a simple to follow sheet of information not available anywhere else.
Product Selection:  Techniche is currently not producing this product. Size and color choices are limited to our current stock on hand. If your selection shows as not available, we cannot ship the unit to you at this time. Consider a standard or deluxe model instead. 
An 8 liter dry sack (shown below) is a great way to store and hydrate your cooling vest.  It not only won't leak like a plastic bag - it looks better too!
READ SIZING INFORMATION BELOW BEFORE ORDERING
Sizing information: Sizes run true to your jacket size if you have a flat stomach (not a tee-shirt size which tends to run smaller than normal). Guys - If you wear a 'large' motorcycle jacket, order a large vest; if you wear an 'XL' - then order an XL vest and so on. The numbers reflect CHEST SIZE in inches, so break out that tape measure. However... If you have a bit of a belly, go for the next size up. If your waist size (the area measured at your belly button) is larger than your chest size, select the size according to your waist size, not chest measurement.
---
We Also Recommend