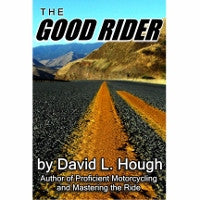 The Good Rider- by David Hough
NOTE: The printed version of this book is no longer available. You can purchase it in two volumes in digital format from Amazon.com
When someone talks about a good rider, it typically means they can go fast or corner well. But in David Hough's new book, The Good Rider, Mr. Hough goes well beyond discussing the performance attributes of what someone may consider a good rider. Using illustrations, photographs, and research data, Hough explores how a good rider is adept at handling things like all types of real-world traffic situations, weather and environmental changes, dealing with mechanical issues quickly and simply, and using sound judgment in making decisions throughout the ride.

The Good Rider is the person you want on your next ride. That ultimately may just be you if you get the book and read it.
Please note: This print version is no longer available. The complete text and photos can be found in the Part 1 and Part 2 Kindle versions on Amazon.com.
---
We Also Recommend