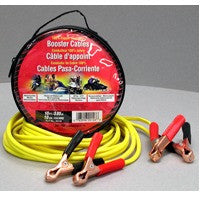 10 Gauge Jumper Cables
Be ready for anything with these high-quality light duty jumper cables that take up very little space. They're made of 10 gauge line with 100% copper conductors. Tough PVC insulation with tangle-free dual-cable and color coded clamps.
These work with motorcycles, ATV's, snowmobiles and other powersports rides, but we've also had success jumping cars (car to car). Pick up two sets, one for the car and one for your motorcycling arsenal. 
And always remember, if you plan to jump your bike from a car, be sure the car ignition is turned off. A running auto alternator can destroy your electrical system.
Storage bag included. Cables are 12 feet in length.
---
We Also Recommend