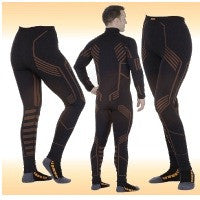 MSL Winter Base Layers SAVE 10%
Made with the warmest Meryl Skinlife fabric on the market today! Pefect for winter riding conditions.
Jeans bunch up, pinch your waist and don't fit under leather or textile pants. But underwear alone feels a bit too little and doesn't protect you from the rough or sticky liner of your gear.
 
T-shirts get soaked when the mercury rises and do nothing for you if it gets even a bit cold.
 
The solution is MSL base layers by BODz.
 
Designed with the motorcycle rider in mind, with long sleeves and long pant legs to cover your wrists and your ankles, they work perfectly as a second skin, fitting smoothly under your riding gear, or any outerwear.
 
Bodz feature active breathing fibers for moisture management and thermal regulation. It keeps you drier by moving the moisture from your skin to their outer surface for evaporation, making it the perfect complement to other Goretex® gear, and providing a soft extra layer to protect you when it gets cold.
 
Made with Meryl Skinlife which maintains the skin's natural biological balance, it reduces the risk of allergies, and insures freshness and odor control. The smooth inner surface provides greater comfort for day-long rides.
 
The MSL base layers provide a second-skin fit that follows each move without binding at the waist or legs. The hip and behind-the-knee panels are extra-stretchy for increased comfort. There are no seams along the sides; the only seams are comfortably flat stitched on the inside of the legs and under the arms. And there's no label to itch you around the waist or on the neck since the sizing information, care instructions and contents are woven in the hem of the waist and shirt.
Shirts feature include a 1/4 zip on the front and a mock turtle collar to keep the heat in and the cold out.
All base layers are unisex. Size dimensions are mens.  
---
We Also Recommend