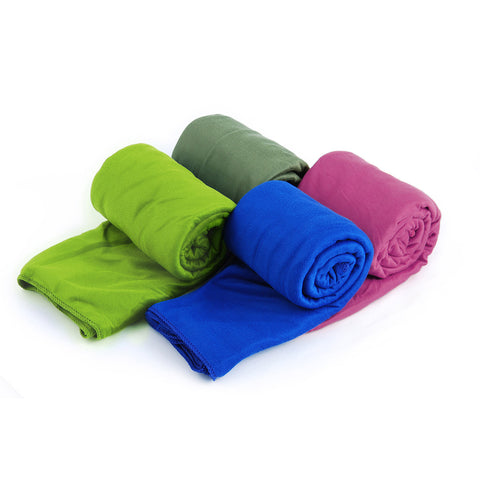 Sea to Summit Pocket Towel
The Pocket Towel™ really will fit into a jacket pocket – yet when unpacked, its soft, thirsty nature becomes apparent. Its silky surface absorbs three times its weight in water, then dries quickly. Supplied with a soft, zippered EVA case, the Pocket Towel is ideal for longer motorcycle adventures, for trips to the gym, or even just to keep in the car.
DOES THE POCKET TOWEL…?
Need special care when being washed? Our Microfiber Towels are not colorfast dyed, so wash them separately for the first few washes. Avoid fabric softener, which will reduce the absorbency.

Have an anti-microbial finish? No. A towel that is this easy to wash and dry doesn't need chemical treatments to keep it fresh.

Have a loop to hang to towel to dry? Yes. All sizes have a loop with a snap closure (so you can hang them on a hook or over a line); the size XL has the loop in the middle rather than the corner to prevent the towel from draping on the floor
SIZE GUIDE
Small: H

and towel

Medium: Somewhere in between
Large: Bath towel
X-Large: Beach towel
FEATURES
Whisper light, yet silky soft and durable
Woven technical fabric that's ultra-absorbent and remarkably fast drying
Comes in a soft, zippered EVA case
Machine washable
---
We Also Recommend