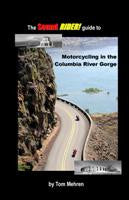 Motorcycling in the Columbia River Gorge - 5th edition
Get ready to discover the Northwest's premier world-class motorcycling destination. Wild twisties & sweepers, stunning terrain, incredible views, favorable weather and more await you in the historic Columbia River Gorge. An area with a long history that begins before the last Ice Age, the Gorge today is a playground for motorcyclists from all over the world. Whether you ride a cruiser, sportbike, street standard, touring bike, dual sport, maxi-scooter or sidecar, the Gorge has something for everybody.
Inside you'll get tips on traveling through the area on two wheels, wisdom about weather, roads, accommodations, things to see and do, and best of all a series of ride ideas routed by the author, Tom Mehren. You'll also get insight into the history of the Columbia River Gorge and learn about how it came to be the top notch riding region it is today.
Author Tom Mehren is the publisher of Sound RIDER!, the Northwest's largest monthly motorcycling publication. Mehren has ridden thousands of miles through the Northwest and has dug in deep to find the best roads in the area. Having founded the popular Sportbike Northwest & Dualsport Northwest rallies held each year in the Gorge, this guide reveals much of what Mehren has learned about the area during his countless trips there.
INSIDE THE ALL NEW FIFTH EDITION
The all new fifth edition was expanded in the summer of 2014 to 132 pages. Inside you'll find all our favorite pavement routes (pick up a copy of the sister Dual Sport Rides through the Columbia River Gorge for off-pavement rides), listings for accommodations, restaurants and things to see and do.  You'll also find useful tips for riding in The Gorge as well as a comprehensive look at why people crash during group riding and how to best avoid it. And it's all spiral bound to easily store in the top of a tank bag!
All routes have been writen to Garmin MapSource GPS format using hard waypoints, not unreliable via points. They are availabe here as a GPS CD-ROM option and arrive as universal .GPX files so you can use them with other devices.
Order the book here or pick it up at the following book-only retail outlets:
Bonneville Dam Gift Shop, Bonneville OR/WA
Inn of the White Salmon, White Salmon WA
McMenamins Edgefield Hotel, Troutdale OR
Powell's Book Store, Portland OR

Seattle Cycle, Seattle WA
Please note the GPS stick is only available here online.
"If you're planning a ride in the Pacific Northwest, or you're a local looking to expand horizons, this book is indispensable." Road RUNNER magazine
---
We Also Recommend