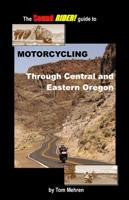 Motorcycling Through Central & Eastern Oregon SAVE $5
From the west end summit hills of Bend & Redmond, you'll see no less than nine volcanic peaks including the Three Sisters, Mt. Bachelor and Mt. Jefferson. To the east lie anomalies like Smith Rock and the John Day fossil beds amidst a long history of geologic change. And all this change makes the foundation for a series of motorcycle roads that are worthy of the trip just getting there. Wide sweepers, tight twisties and more await your next visit to Central and Eastern Oregon.
But there's more to this area beyond the endless corners. Here you'll find a wealth of beauty, history and evolution that keeps you in wonder day after day as you visit the places only explored by those who venture beyond the main highways.
The Sound RIDER! Guide to Motorcycling in Central and Eastern Oregon unlocks the roads, the beauty, the places and the community fabric that makes up this area so loved by those who take the time to ride and discover it fully.
You Get:
24 paved rides

5 dual sport routes

Must-see places

Restaurant recommendations

Accommodation recommendations

Useful riding tips
"AWESOME- A smart book for a great place to ride"
- Eric Glazer, BMW Motorcycles North America
Optional GPS Routes on CD-ROM only available here.
The book-only is also available at these retail locations
Cascade Moto Classics, Beaverton OR
Moto Corsa, Portland, OR
Powell's Books, Portland OR
Rich's Custom Seats, Kingston WA
Ride West BMW, Seattle WA
Seattle Cycle Center, Seattle WA
South Sound BMW, Fife WA
Touratech USA, Seattle WA
---
We Also Recommend