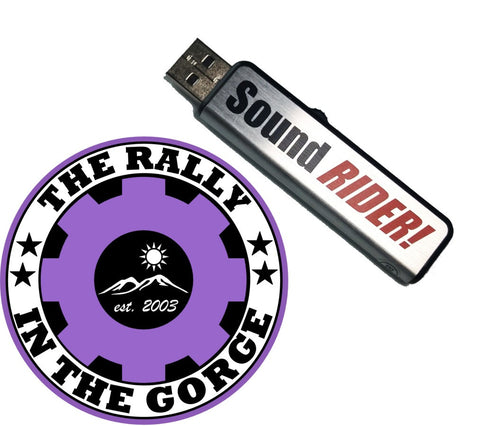 2018 Rally in the Gorge – Thumb Drive edition
Did you miss the rally this year? Never fear, you can still enjoy it when you order up your copy of Rally in the Gorge - Thumb Drive Edition. This special, limited edition collection includes the following:
Maps and ride notes of every suggested ride, paved and dual sport
GPS tracks for every suggested ride, paved and dual sport in GPX format
Map, ride notes and GPX tracks of both the paved and dual sport fun run
The 2018 fun run card
The 2018 Introduction to the Rally in the Gorge slideshow
The 2018 schedule and presenter information
A list of suggested accommodations in and around Hood River
Links to the 4 nights of The Sound RIDER! moto video mashup
Full resolution artwork from this years' T-shirt you can use to print your own shirt or stickers
A link to a special Sound RIDER! collection of some of the best motorcycle movie highlights, snippets and commercials both current and from days gone by. A unique way to enjoy your Thumb Drive Rally evening.
All files are digital and can be printed on demand from your home computer as needed.
You also get:
1 Rally in the Gorge sticker
1 Sound RIDER! Sticker
1 Rally in the Gorge Mug
1 Sound RIDER! Thumb Drive
So, even if you missed the rally, but want to enjoy the rides on your own when time allows, use this handy thumb drive edition to get going! Supply is limited, so order soon before they're all gone.
---
We Also Recommend