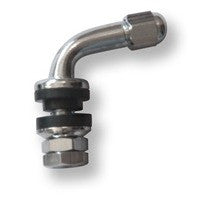 PVR-70 Right Angle Valve Stem
With the various configurations of exhausts systems, frames, and disc brakes on motorcycles these days, reaching valve stems with even a nimble tire pump isn't always easy. We've got the simple solution. The next time you've got your tubeless tires off the rim, simply swap out the valve stem with a right angle valve stem like the PVR 32. Checking your tire pressure often is a must; having it be a pain in the butt is not.
This is a great valve stem for larger bikes such as GoldWings and certain 1150/1200 series BMW's that cannot adopt the more attractive, stealthier and lighter TV25 valve stems.
For small and medium bikes, check out or durable ultra-light TV25 valve stems.
The stem inserts right into the rim. To be used with tubeless tires only.
---
We Also Recommend